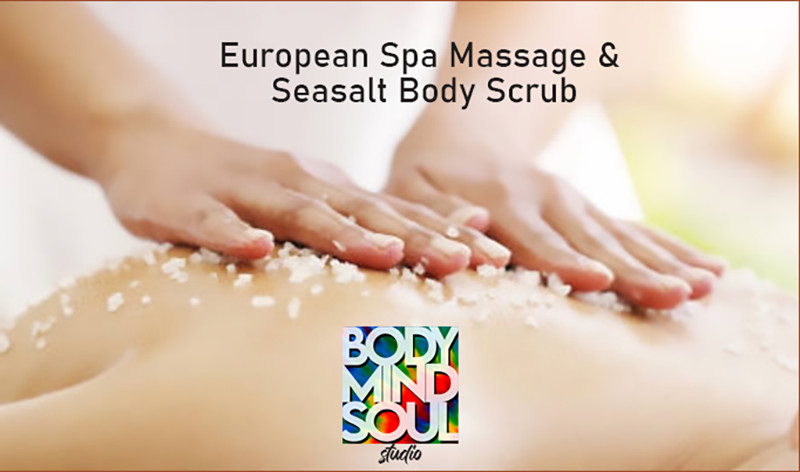 Includes 45 min European Spa Massage, and 15 minutes Sea Salt Scrub Massage
You may think salt is only for seasoning your food. Or for de-icing the sidewalk. You probably didn't think it was for massaging all over your body and into your skin. But there are some good reasons to…
Our bodies are made of salt water. Think about how salty you get when you sweat. A salt body scrub works with your body and skin's chemistry. It aligns with the pH balance of your body. You know how after you go to the beach and swim in the ocean you always feel so good. Sea salt does that for your body.
Sea salt exfoliates. Its coarseness gets rid of dead skin gently, removing dullness and making you look and feel younger. And your skin feels softer and moisturized. A salt scrub can help with ingrown hairs, and prep your body for moisturizing or shaving. If you wax or shave your legs or chest, exfoliate first to get a smooth, clean surface.
Massaging with coarse salt crystals increases the circulation in your skin, helping to detox it, and giving it a healthy glow. And it contains a lot of minerals and trace elements—such as calcium, magnesium and nutrients which are really good for your skin.
After a massage, the salt scrub helps remove oiliness from your body. It is massaged in, back and front. All over, but especially your elbows and knees which tend to need more exfoliation. It is then sponged off, with warm water. As soon as water hits the sea salt it disintegrates, leaving smooth, moisturized skin.
The sea salt formula is suspended in coconut oil and an essential oil base. It protects the moisture in your skin. Afterward, take a shower to remove any residue. You will feel re-energized and glow with health and relaxation.
___________________________
$80
Text 403.467.4877 to book
• I accept last minute bookings when available
• Free parking, 15 min from downtown, 10 minutes from Chinook
• Extra-wide massage table.
• Shower available
• Available daily from 9am
• Last minute appointments are no problem if time is available.