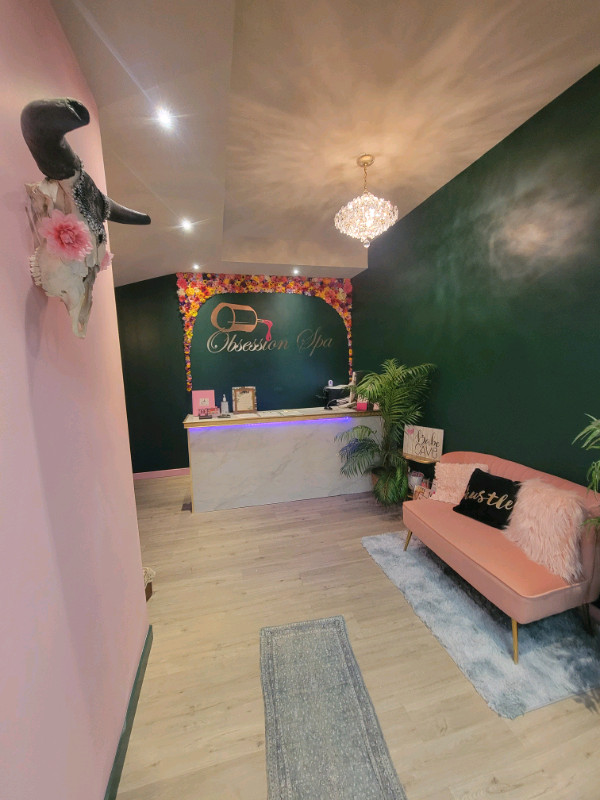 *Move in early and get the rest of November free *
We have 3 beautiful 100+ sq ft service rooms for rent located in gorgeous high end salon with a really unique tropical vintage vibe.
One room is set up complete with individual sanitation sink and gold paper towel dispenser.
Great for lash tech, massage therapist, facialist, spray tan technician, tattoo artist, pmu artist, etc.
Large room with two tone paint, tropical wall paper . $1000 full time
The secod room has a marble tile shower with gold fixtures and french sliding shower doors. Also equipt with sanitation sink and paper towel dispenser. Big room with two tone paint. $1400 full time
Smaller airbrush/tan room equipped with marble shower, gold fixtures, shelving, mirror and mini fridge is 900 full time
Lots of salon perks, 24/7 building access, set your own hours and schedule. Client referrals from us and other services providers in the space. Amazing atmosphere with a great boss babe team with complimenting services. Super close to c train stations and secure building that is handicapp accessible.
Client parking right in front of the building, shared staff area and basic papertowels, cleaning supplies, wifi and utilities included.
Message us with any question or to book a time to see the space.