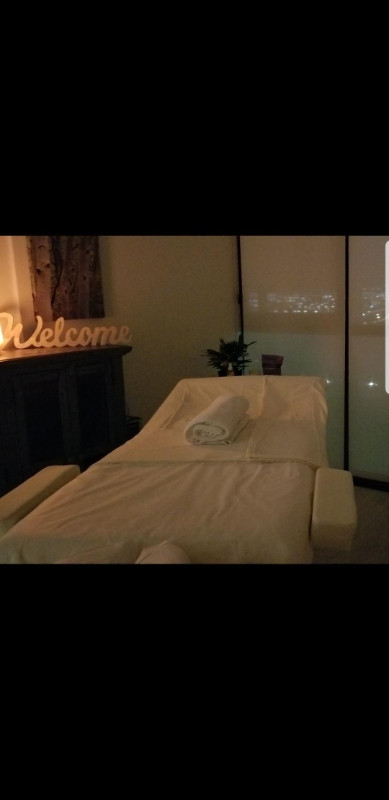 " The best journey in life is the journey back to yourself "
**REGISTERED & LICENSED BUSINESS IN ONTARIO**
I AM EXCITED TO SHARE MY NEW WEBSITE! About me and my pain-relief healing practice
https://heavenearth.shop/heaven-earth-healing-cbd-massage-journeys/
https://heavenearth.shop/about-julianna/
BY APPOINTMENT ONLY. I PREFER TO BOOK 1-2 PEOPLE A DAY FOR EVERYONE'S SAFETY & PRIVACY
Please do your best to book a day (or couple days) in advance as I get a large volume of inquiries.
AFFORDABLE LUXURY For Health+Wellness Minded Individuals & Busy Hard Working People! ☀HEAVENLY SORE BACK/GLUTES/GROIN/LEGS/FEET PAIN & TENSION RELIEF☀ Infused with powerful natural pain relief healing of C B D +Hemp +Magnesium oils
FIRST TIME PATIENT PROMO HEALING CB D MASSAGE JOURNEY
$90/ 65 MINUTES (MAINLY LOWER BODY) OR $120/ 75 MINUTES (WHOLE BODY)
**PLUS 15 MINUTES EXTRA TIME**
YOU GET THE WHOLE TIME! I don't skimp on your massage time
Hello everyone & welcome to my Natural Wellness Condo Studio affordable luxury in a beautiful, tranquil environment Located in Vaughan @Jane & Highway 7 (NOT A SPA) WITH PARKING
**PROFESSIONAL SETTING NO FUNNY BUSINESS**
GENUINE EURO LADY HEALING PRACTITIONER PROVIDING SERIOUSLY AMAZING PAIN RELIEF MASSAGE TREATMENT
✴I AM OFFERING MY HEALING MASSAGE PROMO FOR HARD WORKING BUSY PEOPLE & NATURAL WELLNESS CONSCIOUS INDIVIDUALS WHO ARE IN NEED OF AN AMAZING PAIN/ TENSION RELIEF TREATMENTS ✴ VERY UNIQUE NOT YOUR TYPICAL "RMT MASSAGE" ONE OF ITS KIND IN VAUGHAN!
YOUR BODY+SOUL+HEART WILL BE CENTRED INTO ONE PEACEFUL CALM BEING
$90 for 1 Full Hour or $120 for 75 Minutes (you will get the full time, no skimping on your massage time!) Head, Neck, Shoulders, Lower Back with Foot Scrub+Soak & Lower Leg Massage
You will receive:
✴15 Minutes of head, neck & shoulders using a C B D extra strength pain relief cream
✴30 Minutes working on your lower back and glutes area using a C B D extra strength pain relief cream
✴20 Minutes Pamper-mint Scrub for the soles of your feet, nourishing cream & preparing them for an amazing foot reflexology massage. Your legs get treated to a wonderful massage as well
✴End your session with a balancing slow yoga stretching (lower back, pelvic & groin area)
☀ 75Minutes/ $120- A favorite of my repeat patients- A Heavenly Balinese Style flowing massage, Its more customized to any specific pain or sore tight muscles you have and I dedicate more time for you to deeply relax and really enjoy my this whole body treatment.. You will have a tough time getting up after your session is over! I highly recommended this session if you like to try warm foot soak with scrub plus my heavenly foot massage
THIS IS DONE WHILE YOU ARE LAYING DOWN ON A COMFORTABLE LARGE MASSAGE TABLE – DRAPED OR UNDRAPED- I WANT YOU TO FEEL SAFE & COMFORTABLE AT MY STUDIO SHOWER AVAILABLE TO USE-ALWAYS CLEAN FRESH TOWELS most important is that you are comfortable, peaceful & ready to enjoy a wonderful healing treatment ..
CENTER YOUR SOUL & CLEANSE AWAY YOUR STRESS Reconnect to your sense of self & experience a greater purer form of healing … Untangle yourself from those annoying knots.. loosen up your tight muscles & soothe your nerves.. Customized to each individual's body to relieve aches, pain and overall body tension
My Wellness Studio is a tranquil safe space where you can experience a truly unique pain relief healing with the main focus on your hard working feet, your quads, lower legs, lower back (sciatic pain) & groin area. Your Feet are enveloped in special hot towels that hold warm water infused with only the highest quality Epsom salts, organic herbs, CBD oils and essential oils.. While your neck & back are covered with a heated blanket
**The average active person takes around 7,500 steps a day. If you maintain that daily average and live until 80 years of age, you would walk around the Earth Five times!! Under the effect of gravity, if you are on your feet for long hours every day, to pamper your hard working feet is an absolute must!**
I invite you to step away from your busy life for a little while to enjoy peace, serenity and get some much needed pain relief. My goal is to provide you with affordable luxury in a beautiful, tranquil environment, and possibly help you to develop a healthy lifestyle with my natural healing products. This treatment that I have developed encourages your body to nurture, cleanse, relax the body and heal your spirit. I deeply & sincerely care for my patients and their well-being.
✅WHAT PRODUCTS I USE FOR YOUR HEAVENLY BODY+FOOT PAIN RELIEF SESSION:
I use my Therapeutic deep absorbing creams (my own soothing blend of Magnesium oil & whole spectrum C. BD salves) that deliver soothing pain relief to reduce tightness, discomfort and tired, sore or aching muscles
✔Blended with natural pain-relieving extracts
✔Non oily & Hypoallergenic with minimal scent
✔I strictly only use organic, natural products
☀You will be taken on a sensory journey that you most likely won't want to come back from…☀
EACH PART FLOWS IN BEAUTIFUL UNISON FROM YOUR SCALP ALL THE WAY TO YOUR FEET.. THIS WILL BRING YOUR WHOLE BODY TO A Q STATE (INTO 'ONE' BEING)..
I add an amazing foot massage that is truly an indulging therapy that greatly relaxes your body, and relieves conditions like your: back pain, headaches, sleeplessness, anxiety and everyday stressful situations that you tackle with
Details of your Heavenly Natural healing Journey :
✅ – I wrap your tired feet in hot towels soaked with pain relieving Epsom Salts so your feet absorb all that soothing goodness and feel refreshed, then I proceed by scrubbing with a delightful exfoliating Eucalyptus+Mint Foot Scrub, using a natural lava pumice stone that removes dry skin to prepare your shiny rejuvenated feet for a blissful massage. I gently & slowly (done in a way to try to avoid leg cramps, or for those with ticklish feet!) massage your feet using a refreshing soothing foot balm that's enriched with Active Manuka Honey, Peppermint Oil and vitamin E to nourish, smooth & repair cracked dry or sensitive feet. THIS WILL TRULY FEEL LIKE HEAVEN ON EARTH!
✅ HEAT THERAPY- I cover your upper body with a fleece Heating Blanket so your shoulders, neck, upper & lower back warm up & absorb all that pain relief cream goodness. And the heat feels heavenly which instantly relaxes you and you just exhaleee…
✅ SLOW FLOWING MASSAGE MOVEMENTS – I slowly deeply massage your bum glutes muscles that are often sore from sitting or exercise
✅COOLING GREEN TEA EYE MASK – An Energizing Facial Massage using Vitamin C to Refresh tired eyes, relieves stress and anxiety for the mind (This one works amazingly well for the over thinkers and those who have a tough time relaxing and switching their brain off) I have patients who just dose off and that is perfectly ok you wake up feeling refreshed & clear headed, all your senses awakened as your heavenly massage session ends and you're ready to seize the day!
I am a genuine professional lady who takes pride in her treatments and I love helping people as best I can to achieve a calm and anxiety free mind…
I specialize in and LOVE giving incredibly amazing foot massages, your feet have so many pressure points that when treated, massaged and caressed in a way that you feel is from the heart, it sends feel good signals to the rest of your whole body and makes you feel sensations that you probably never felt before! Our feet carry our whole body, treating them to much needed pampering TLC is only right! THIS IS MY OWN UNIQUE TREATMENT THAT I HAVE CREATED FOR MY PATIENTS AND THEY ABSOLUTELY LOVE IT! I'm being told often that no massage service gives this kind of foot treatment and I take a lot of pride in that.
My wellness studio is a sanctuary space where you can lay down, stretch out, shut off your brain and completely tune out the hustle and bustle noise of the outside world. I strive to be different and my goal for my patients is to create & provide a truly genuine massage experience that heals not only physically but spiritually as well..
Also I ONLY BOOK TWO PATIENTS A DAY and leave a couple hours in between sessions for a non rushed massage experience, privacy & your safety
*TO ALL MY AMAZING EXISTING PATIENTS! You have helped me through my journey to become better at my healing practice and I truly appreciate each and every one of you from all of my heart THANK YOU ❤
As always I try to keep a positive vibrant attitude, easy to communicate with and willing to accommodate as best I can in these unpredictable (inflation!) times.. booking a day or couple hours in advance is recommended & appreciated **HOURS** 10:30AM – 8:30PM
To book your Heavenly Natural Healing Session please TEXT me at 647-495-0997 PLEASE MENTION YOU LIKE TO BOOK THE PROMO with Julianna. I will gladly answer any questions or inquiries you may have **sorry NO CALLS pls**
My services are mostly catered to busy professionals & wellness minded individuals who are searching for more than just the average clinical treatments.. We all need a safe Non-Judgmental place to escape to & reconnect to ourselves every once in awhile..
*I always sanitize to make sure everything is squeaky clean and hygienic for my patients*
I am very much looking forward to your visit..
Wishing all Love, Happiness & Good vibes… ✌ Julianna "Emancipate yourselves from mental slavery, non but ourselves can free our minds" -Redemption song By Bob Marley
https://heavenearth.shop/heaven-earth-healing-cbd-massage-journeys/
https://heavenearth.shop/about-julianna/
*Please Note: NO e3tras services are provided Be nice & respectful and do not ask. Thank you!
RMT insurance receipts provided