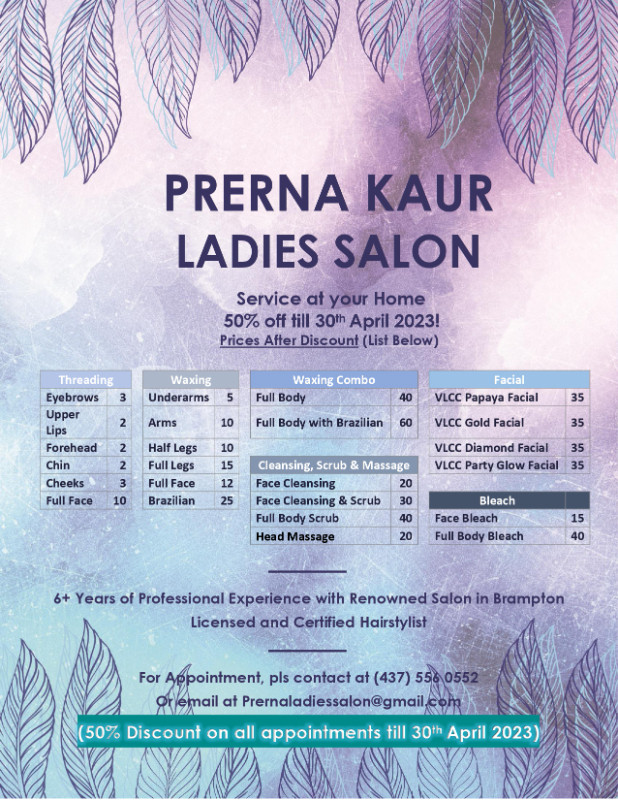 We provide Ladies Salon Service at your home in Brampton, Mississauga, Milton and Etobicoke. Our services Includes Threading, Waxing, Facial, Bleach and Head Massage.
No Extra Charges for appointment at your home.
Licensed and Certified Hairstylist & Esthetician with 6 Years of Professional Experience with Renowned Salon in Brampton.
For Home Appointment, Pls contact at (437) 556 0552 or email at Kaurladiessalon@gmail.com
We are providing 50% discount on booking this month. Minimum booking amount is $30 after discount.
No Extra Charge for appointment at your home.
Discounted Pricelist for the services as below.
Description Price after Discount
Eyebrows Threading 3
Upper Lips Threading 2
Forehead Threading 2
Chin Threading 2
Cheeks Threading 3
Full Face Threading 10
Arms Waxing 10
Full Legs Waxing 15
Half Legs Waxing 10
Full Face Waxing 12
Underarms Waxing 5
Brazilian 25
Full Body Waxing 40
Full Body with Brazilian 60
VLCC Papaya Facial 35
VLCC Gold Facial 35
VLCC Diamond Facial 35
VLCC Party Glow Facial 35
VLCC Face Bleach 15
VLCC Full Body Bleach 40
Facial Cleansing 20
Facial Cleansing & Scrub 30
Full Body Scrub 40
Head Massage 20