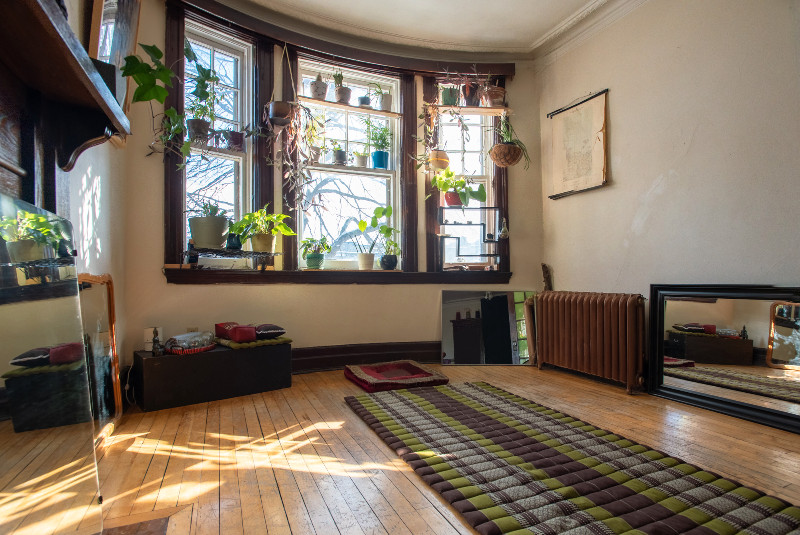 Français ci-dessous
Perhaps as ancient as the Buddha, this style of bodywork involves acupressure (stimulating movement through precise pressure using my thumbs, fingers, hands, elbows, knees, feet), joint mobilization and assisted stretching. It's a holistic, full-body experience which can help you reach areas in your body and mind which you haven't paid attention to or knew existed!
My intention is to create space and invite movement in areas which have been blocked or stagnant, whether it be in your muscles, joints, or cardiovascular and nervous systems. It's especially effective for those experiencing pain in the feet, legs, hips, stomach, back, shoulders and neck! What I hope to do is help bring awareness to these areas in your body, mind or soul in which you feel discomfort so you can take care of yourself better.
The massage at its foundation is gentle, progressive yet deep. It's a great way to relieve, relax and reset the body. It's like I'm giving you yoga: it's super stretchy, very opening, really releasing, and really relaxing. While assisting in calming the body and mind, it can also be energizing, clarifying and cleansing.
Don't let the models intimidate you: this massage is appropriate for all body types and mobility. I am respectful of your limitations and sensitivities.
Please note that the massage is given to you on the floor on a comfortable mat while you are wearing comfortable, loose-fitting clothing.
I have done professional training internationally in several places with different approaches, so you are assured a beautiful professional, therapeutic experience!
Member of the Réseau des massothérapeutes professionnels du Québec, receipts provided.
Special rates for those without insurance!
$175 for 2 hours
$150 for 90 minutes
Extra charge for home visits that are not downtown.
Ask about tempting offers!
=====
Traduit avec www.DeepL.com/Translator (version gratuite)
Peut-être aussi ancien que le Bouddha, ce style de travail corporel implique l'acupression (stimulation du mouvement par une pression précise à l'aide de mes pouces, doigts, mains, coudes, genoux, pieds), la mobilisation des articulations et l'étirement assisté. Il s'agit d'une expérience holistique qui peut vous aider à atteindre des zones de votre corps et de votre esprit auxquelles vous n'aviez jamais prêté attention ou dont vous ignoriez l'existence!
Mon intention est de créer un espace et d'inviter le mouvement dans les zones qui ont été bloquées ou stagnantes, que ce soit dans vos muscles, vos articulations ou vos systèmes cardiovasculaire et nerveux. C'est particulièrement efficace pour ceux qui ont des douleurs dans les pieds, les jambes, les hanches, l'estomac, le dos, les épaules et le cou! Ce que j'espère faire, c'est vous aider à prendre conscience de ces zones de votre corps, de votre esprit ou de votre âme dans lesquelles vous vous sentez mal, afin que vous puissiez mieux prendre soin de vous.
Le massage, à sa base, est doux, progressif mais profond. C'est un excellent moyen de soulager, de détendre et de réinitialiser le corps. C'est comme si je vous donnais du yoga : c'est très extensible, très ouvert, très relaxant et très reposant. Tout en aidant à calmer le corps et l'esprit, il peut aussi être énergisant, clarifiant et purifiant.
Ne laissez pas les modèles vous intimider : ce massage convient à tous les types de corps et de mobilité. Je suis respectueux de vos limites et de vos sensibilités.
Veuillez noter que le massage vous est prodigué à même le sol, sur un tapis confortable, et que vous portez des vêtements confortables et amples.
J'ai suivi une formation professionnelle internationale dans plusieurs endroits avec différentes approches, vous êtes donc assuré d'une belle expérience professionnelle et thérapeutique!
Membre du Réseau des massothérapeutes professionnels du Québec, reçus fournis
Tarifs spéciaux pour les personnes sans assurance
175 $ pour 2 heures
150 $ pour 90 minutes
Frais supplémentaires pour les visites à domicile qui ne sont pas effectuées au centre-ville.
Informez-vous des offres alléchantes !