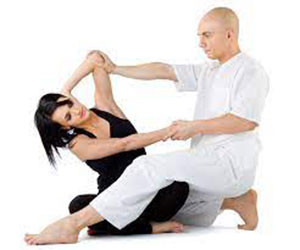 Thai massage is an ancient healing practice from Thailand. In this intensive therapy recipients are assisted in various stretches and pressure is applied to pressure points located along meridians using the therapist's hands elbows and even the feet. In conjunction with flexibility, blood flow and energy are increasing and the result is a long-lasting feeling of wellbeing.
Professional (male) Masseur offering thai massage with shiatsu techniques for healing & rejuvenation. Providing maximum effectiveness for those with sports injuries, arthritis, back & join pain, stress, anxiety etc. Treat yourself to a unique experience today.
Currently providing mobile service at your place to anywhere in the GTA. First time clients get exclusive an introductory rate.
BENEFITS OF THAI MASSAGE:
– Revives Energy
– Reduces Stress & Anxiety
– Increases flexibility and range of motion
– Relieves tired and aching muscles
– Relieves Headaches
– And more..
Call today to book your session:
416-428-2877